1. Introduction
In order to help maintain citizen's health, take care of minority groups, promote community health services, help the public establish self-health management, and fulfill the responsibility to take care patients with chronic diseases, Taipei City Government has incorporated Department of Health, Department of Social Welfare, Department of Information Technology, as well as Law and Regulation Commission, etc., to promote "Taipei Telecare Services". After studying its applicability and assessing regional trial test, we launched the trial services on all of the 12 districts in Taipei city based on "Taipei Telecare Services Implementation Plan" in 2009. It helps promote healthy ageing locally, construct a peace-minded and complete life caring system for the elderly, care workplace wellbeing, reduce risk of chronic diseases, construct an integration system for resources for initiative caring services. With the city's various broadband infrastructure and incorporation together all the different segments including public health, medical, healthy living care, long-term care, and other service industries, the implementation would help better serve the citizens.
2. Service Target
"Taipei Telecare Services" constructs five different modes including household, community, institution, workplaces, and interne to set up "Telecare Station" targeting patients with hypertension, hyperlipidemin, diabetes, and other chronic diseases. In addition, it utilizes internet health services to provide every citizens to operate self-health management.
3. Service Content
The 12 District Health Centers working as the execution entity are responsible to receive submissions and conduct health assessment for the general public. In addition, the Taipei Telecare Services also commissions Taipei City Hospital to establish "Telecare Call Center" with professional nurse practitioners assigned and incorporate of the cross-department information platform and the 1999 citizen hotline to provide care receivers various types of services based on their needs. The 12 services provided include "self physiological tele-monitoring on blood pressure, blood sugar, body temperature," "reminders on physiological measures abnormality," "health consultation," "health and sanitary guidance," "self health record lookup and download," "customer service health care," "communal health promotion event notification," "guided tours on the local life," "visits on special cases," "reminders on medicines and nutrition intakes," "health assessments and case management," "medical and social welfare referral." The Services also take initiatives to care citizens living in rural area and elderly living alone . "Taipei Telecare Services" information platform will combine a plan called "Wise House" to expand the scope of service to the citizens so that the public can enjoy a high-quality life and feel at ease. With that, we will build the nation's first "Wise and Healthy City".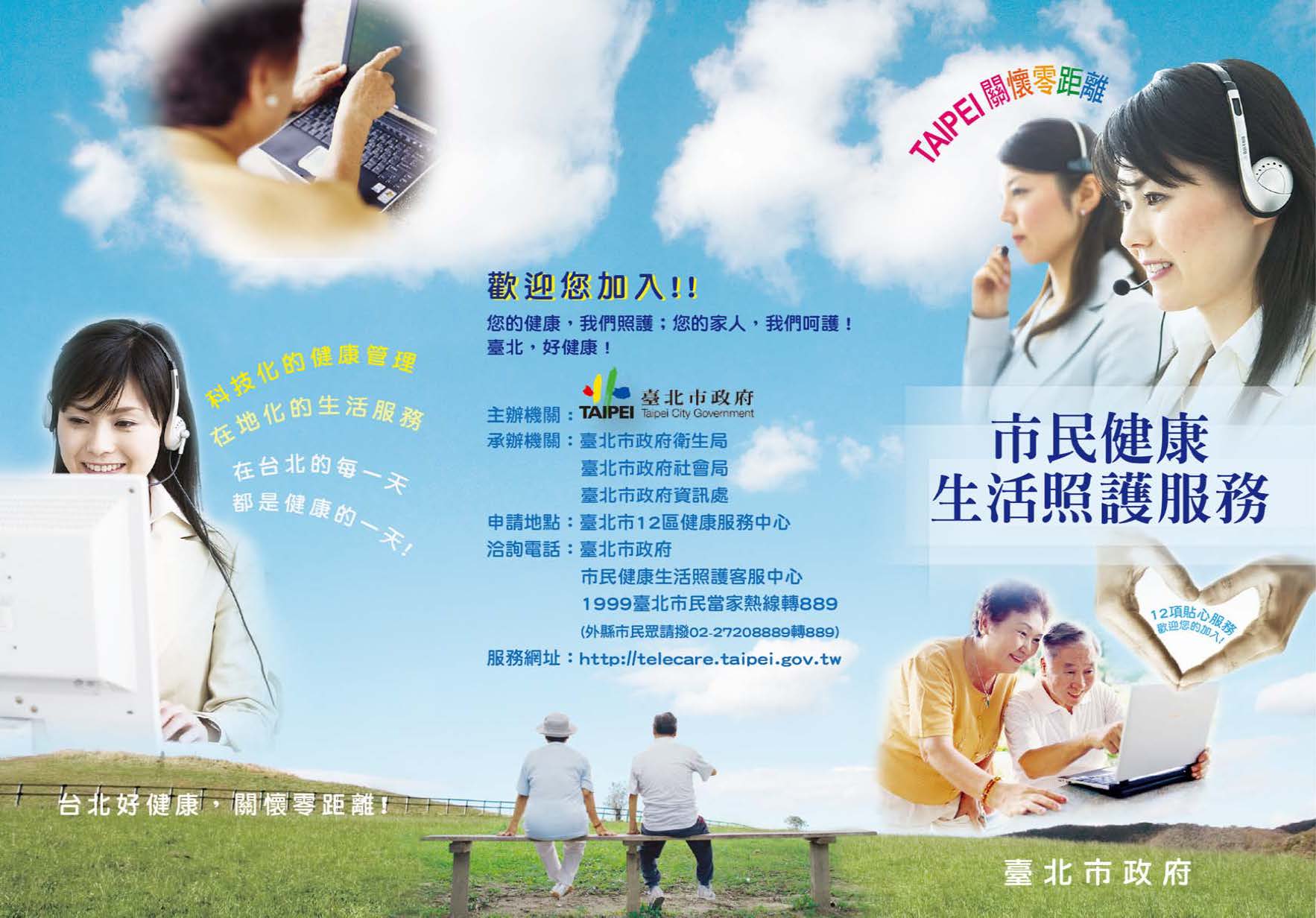 The Obverse Side of the 2012 Taipei Telecare Services Leaflet.
The Reverse Side of the 2012 Healthy Living Care Services for the CitizensTaipei Telecare Services Leaflet.